The Holidays are comin'!
It's time to get that Christmas food shopping list sorted asap to make sure your Christmas goes spectacularly!!
With so much choice to cater for everyone's tastes…what should be on your list? Here are a few ideas we like to indulge in – but remember, where possible, always shop locally…
Christmas Breakfast


Smoked salmon
Cold meats
Fresh fruit
Bagels
French toast
Fresh bread
Croissants
Cream cheese
Lemons
Bacon
Pancakes
Eggs
Bucks Fizz/Prosecco/Champagne
Clementine/Orange juice
Cranberry juice
Hot chocolate
Tea & Coffee
Christmas Dinner
Turkey (or other meat/vegetarian choice – see below)
Stuffing
Pigs in blankets
Pork chipolatas
Streaky bacon
Roast potatoes
Potatoes
Goose fat
Parsnips
Carrots
Peas
Red cabbage
Sprouts
Bread sauce
Cranberry sauce
Gravy
Napkins
Christmas crackers
Candles
Wine
Champagne/Processco
Ice
Christmas Dessert
Christmas pudding
Brandy
Custard
Cream
Cherry trifle
Chocolate roulade
Yule log
Fruit pies
Cheese board
Crackers
Dips
Pickles
Chutneys
Port
Christmas Drinks
Mulled wine
Wine
Ale
Cider
Baileys
Prosecco/Champagne
Port
Brandy
Snowball
Gin
Sherry
Fruit juices
Fizzy drinks
Hot chocolate
Tea & Coffee
Christmas Snacks
Mince pies
Pretzels
Chocolates
Crisps
Nuts
Dips
Cheese board
Chutneys
Fresh fruit & salad
Does it always have to be turkey?
No – of course not!!
Goose and pheasant are actually the oldest traditional Christmas meat in the UK. Turkey in the UK was first served to Henry VIII for Christmas, but it only became widely popular in the 1950s due to wider availability and better access to refrigerated storage in the home.
Whilst turkey is now seen as a set-in-stone tradition, it's absolutely OK to have something else instead.
Top 5 alternative mains
Do Christmas a little differently this year and try a turkey alternative. Don't fancy cooking a bird? Experiment and find your new Christmas favourite.
1. Stuffed saddle of venison with prunes & brioche
A venison roast might seem like an unusual choice but the combination of sweet prune stuffing and savoury pancetta is simply irresistible. This parcel of deliciousness is sure to be a family favourite. Serve with red cabbage and roasties for a winning festive combination. The rich flavours of the meat will go perfectly with the fruity filling.
2. Miso-glazed roast ham
Succulent, sweet, savoury – ham has it all! This gorgeous centrepiece has a sticky, caramelised glaze made with brown sugar, spices, sherry and miso, so it's a treat for all the senses. You'll have plenty of leftovers for chunky Boxing Day sandwiches, too. Use the ham stock to create a warming winter soup.
3.  Roast Pheasant with Chestnut Stuffing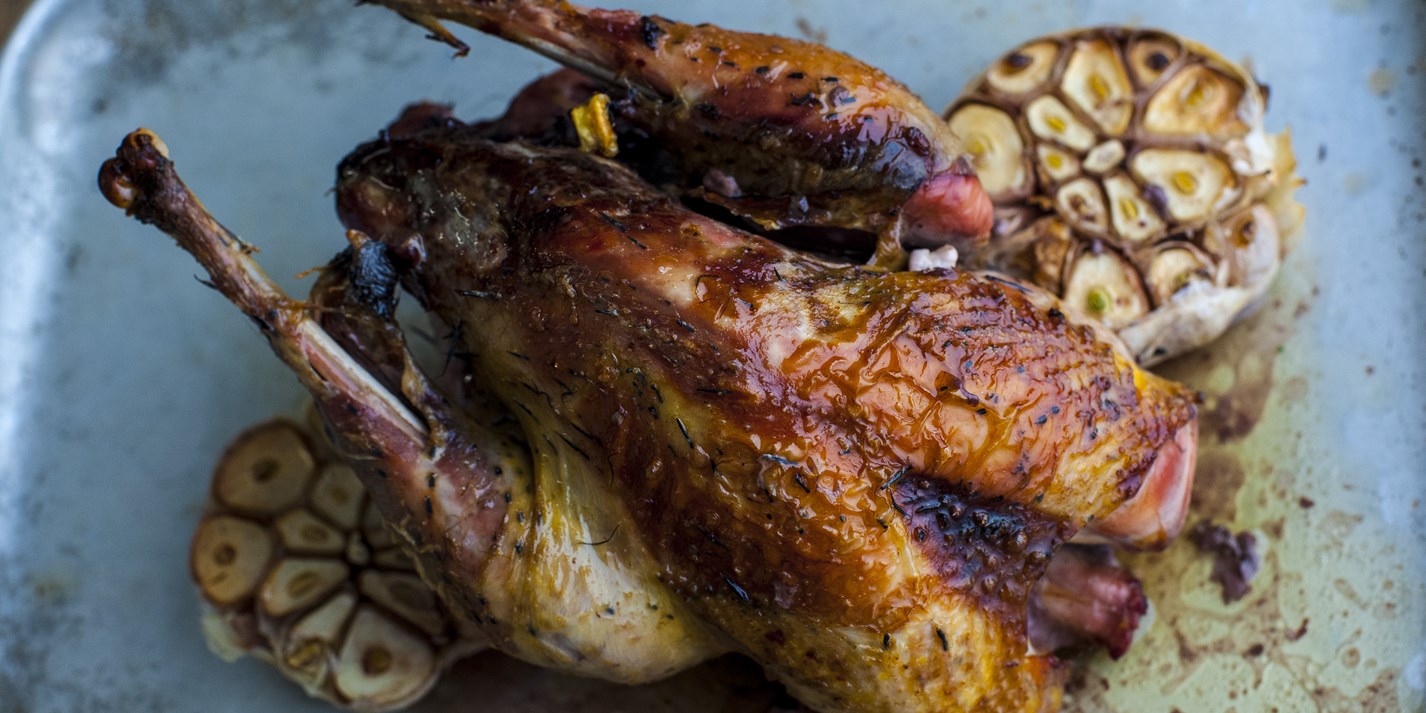 Like duck and goose pheasant works really well with port, accentuating the sweet flavours. Add to that streaky bacon and the meaty flavour will shine through. Add Chestnut Stuffing and Port and Chestnut Sauce to the mix – can you really be any more festive? All of those great flavours on a plate will really feel like Christmas.
4. Marmalade glazed roast duck
Roast duck makes a delicious, easy alternative to turkey and our addition of sticky Seville oranges and marmalade makes it all the more festive. It takes just five minutes to prep this beautiful bird and it's a great size for a smaller family meal on the big day.
5. Roast lamb stuffed with apricot & mint
Take the humble roast lamb to the next level with our fruity and flavourful apricot and mint version. This impressive looking roast adds to the traditional herbs you might expect, like rosemary and mint with chopped apricots and plenty of garlic.
Does it always have to be meat?
No – of course not!!
There are plenty of vegetarian Christmas dinner ideas, too. Try a vegetarian parsnip recipe as a fantastic Christmas dinner centrepiece. Similarly James Mackenzie packs chestnuts into his Vegetable stew before topping it with a herby crumb topping and crispy kale for extra texture — the perfect dish to serve alongside all the (veggie) trimmings at Christmas dinner. Graham Campbell's Vegetarian haggis recipe makes a delicious and filling alternative Christmas dinner, and try one of the vegetarian starters in this collection — such as Lee Westcott's signature Yeasted cauliflower dish — for an impressive way to begin your Christmas dinner menu.
Top 5 veg alternatives
Never fear, nut roast alternatives are here! Try a savoury slice of veg cake, a cheesy truffled pudding or an Italian-inspired gnocchi dish. Take a look at our vegetarian Christmas collection for more enticing meat-free meals.
1. Cauliflower, chestnut & sage cake
Cauliflower is such a wonderfully versatile veg. Try turning it into this filling cake stuffed with chestnuts and Christmassy herbs. Serve a warm golden brown wedge with your usual favourite trimmings for a simple party option that pairs perfectly with rich flavours.
2. Parsnip, mushroom & barley wreath
Nothing says Christmas like an edible wreath, packed with your favourite winter veg. This show-stealing recipe tastes as good as it looks, and even the carnivores will be asking for a second slice. The mushrooms add a rich, umami depth that brings out the earthy flavours of the root veg. Top with colourful root veg crisps for added crunch. It's also delicious the next day, layered into Boxing Day sandwiches.
3. Vegetable & chestnut stew
This vegetable and chestnut stew recipe consist of chestnuts, broccoli and carrots and topped with a sage crumb and deep-fried kale, for texture. What's more, it's teeming with nutrients, too.
4. Vegetarian wellington